FASA Welcome Back Bash!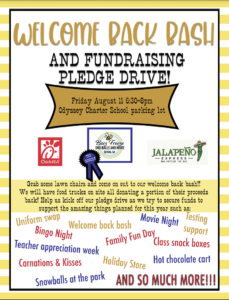 August 11 6:30-8:00pm
Odyssey Charter School parking lot
Grab some lawn chairs and come on out to our welcome back bash!! We will have food trucks on site all donating a portion of their proceeds back! Help us kick off our pledge drive as we try to secure funds to support the amazing things planned for this year such as: uniform swap, bingo night, teacher appreciation week, carnations and kisses, snowballs at the park, welcome back bash, family fun day, holiday store, movie night, testing support, class snack boxes, hot chocolate cart, and so much more!